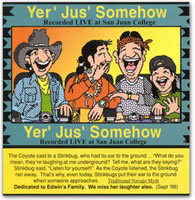 Recorded LIVE September 98' at San Juan College. Dedicated to Edwin's Family. We miss her laughter also.
The Coyote said to a Stinkbug, who had its ear to the ground... "What do you mean, they're laughing at me underground? Tell me, what are they saying?" Sinkbug said, "Listen for yourself!" As the Coyote listened, the Stinkbug ran away. That's why, even today, Stinkbugs put their ear to the ground when someone appraoches.
- Traditional Navajo Myth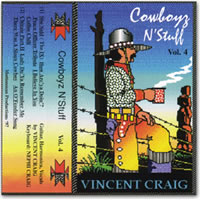 Guitar, harmonica, vocals by Vincent Craig. Keyboard by Nephi Craig. Recorded in 1997.
Side One:
She Said (The IX)
How Are'ya Doin?
Peace Officer Tribute
I Believe In You
Coffee Chili
Side Two:
Chizzie Part II
Lady Do'Ya Remember Me
There Was A Sioux Cowboy
An O'Fender Song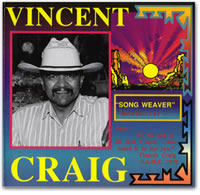 With a total investment of $139, a home recording studio we began Vol. 1 in 1986. With only strong family encouragement, our family label became a reality. By 1988, with "RITA", a humorous song in Vol. 1 receiving good radio airtime, the way was paved for our second humorous song, "CHIZZIE" in Vol. II. It was obvious to our family that humor about Indian lifestyles was a hit with the public. Using a $3.98 ninety-minute cassette tape and the Many Farms High School Studentbody, we recorded Vol. III, Boarding School Fish Stories. A heart felt thanks to the students and faculty.
We presently make our home on the WHite Mountain Apache Nation at Whiskey Flats, Arizona. This CD is dedicated to our parents, their willingness to provide a better lifestyle for their children. To my Grandfathers, Robert C. Etcitty, Phillip Mariano, and Joseph C. Ivins we give our eternal gratitude.
Recorded at Cereus Recording, Tempe, AZ.
** Vincent, Mariddie, Dustinn, Nephi, and Shiloh Craig.**